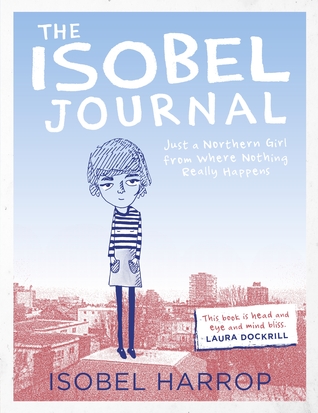 Title;
The Isobel Journal
Author;
Isobel Harrop
Source;
Netgalley, in exchange for an honest review
Format;
eBook
Publisher;
Hot Key Books
Publication Date;
November 7th 2013
Description;
THE ISOBEL JOURNAL is no ordinary snapshot of a contemporary teenage life. A charming and vivid narrative scrapbook of the eighteen-year-old author's sketches, mini-graphic novels, photographs and captions, it captures her wit, her observations and her creative talent as she takes us through the three central themes in her life: 'Love', 'Friends, Art and Otters' and 'Me'.
Resonant of Laura Dockrill's MISTAKES IN THE BACKGROUND and with the powerful naïve illustrative style of cult Japanese artist Yoshitomo Nara, this is a collector's gift for teenagers and all who have the teenage experience still in their hearts. Readers will emphasise with this witty and honest journal of a girl getting to grips with impending adulthood. A must-have for all hipster teenagers and anyone who appreciates the raw creativity of youth. Enchanting and poignant.
My Rating;
3.5*s
Review;
Though this book is a little strange, considering it is pretty much a journal, but with more pictures than words, I still enjoyed it.
It is a very quick read. I enjoyed the pictures, and the little bits of writing. I would pick up another book by Isobel no problem.
Cute and I would recommend it to those who are interested in the description and to nosy people. The kind that like to read journals.
Made me smile and could definitely relate to some of the things said. I do like books that are written differently and in different formats.
Also, the otter and other animal drawings were so cute.