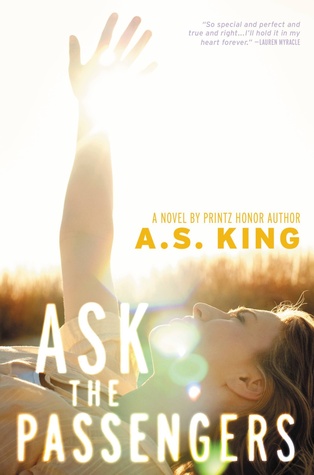 Title;
Ask the Passengers
Author;
A. S. King
Source;
Amazon
Format;
Kindle
Publisher;
Little Brown
Publication Date;
23rd Oct 2012
Description;
Astrid Jones desperately wants to confide in someone, but her mother's pushiness and her father's lack of interest tell her they're the last people she can trust. Instead, Astrid spends hours lying on the backyard picnic table watching airplanes fly overhead. She doesn't know the passengers inside, but they're the only people who won't judge her when she asks them her most personal questions--like what it means that she's falling in love with a girl.
As her secret relationship becomes more intense and her friends demand answers, Astrid has nowhere left to turn. She can't share the truth with anyone except the people at thirty thousand feet, and they don't even know she's there. But little does Astrid know just how much even the tiniest connection will affect these strangers' lives--and her own--for the better.
In this truly original portrayal of a girl struggling to break free of society's definitions, Printz Honor author A.S. King asks readers to question everything--and offers hope to those who will never stop seeking real love
My Rating;
4*s
Review;
Whilst Ask the Passengers was quite what I was expecting, I loved it. I never seem to get what I expect when I read a book by A. S. King, as I found out when I read Please Ignore Vera Dietz. This is a good thing.
Usually when you read a lot of books...they become a little predictable. Person A gets with Person B then realises they love Person C. That or they live happily ever after... Blah, blah, blah.
Whilst I love these kinds of books, the predictable ones, it is so good to have something different come along.
I loved all of the philosophies. I loved Astrid sending her love to people 30,000 ft in the air so that she felt it had a use (though it already had use down here.) Helping people through a thought. Seeing snippets of these peoples lives, short passages from characters Astrid may never meet. Everything about Astrid's relationship with the passengers was perfect to me.
When we feel we have no one to turn to, we all find an outlet. Be it writing, be it pain, be it singing. Or talking to stranger. Or someone who can't hear you. Talking to the passengers, that's Astrid's outlet.
As you may, or may not, be able to tell Astrid is my favourite character in this book. Flawed, unsure, feeling unloved. She is the perfect representation of a teenager for me. Those three characteristics that barely scratch the surface of her character...they are how I felt as a teen. Sometimes, even now. She is a character I can relate to, even though our lives are completely different.
The other characters; Dee, Kristina, her family, I found I couldn't like them as much as I did Astrid.
I really disliked Dee at first, she seemed pushy and I was afraid she would hurt Astrid with her push-y-ness. I didn't like it at all. But, she grew on me, as she changed throughout the book, becoming a bit of a better person, I began to like her a little. Though that doesn't exclude her earlier behaviour.
Kristina didn't seem like a very supportive friend at all. She seemed selfish, she didn't seem to care about Astrid or anyone else. I couldn't find much in me that liked her.
Astrid's family, her mother, her father, and Ellis. Everyone in the family so different from one another. It almost seemed as if they were four strangers thrown together sometimes. But then you'd see the familiarity, the love hidden behind the pain. The few things they had in common.
I didn't like the family much at times, the parents could seem a little distant from the children, the mother seemed way too irresponsible. Mummy-and-Me nights were so spiteful.
Her mother didn't redeem herself to me in the end. At all. I could not stand her character.
Ellis, I grew to like. Even when she seemed like a pain in the ass.
Her father I also liked. A strange man, but one who seemed loving, and kind, and maybe a little stuck.
There was representation of L, G, and Q of LGBTQIA+. Something I was glad for. There were probably more LGBTQIA+ main characters than not.
I would recommend this book. Definitely. It's beautiful, and new, and different. It's refreshing.